Waterfront Park. 9.21.11
It was uncertain whether the weather would have an effect on last night's Waterfront show, but the atmosphere settled down enough to allow a gorgeous night for the last Waterfront Wednesday of the year. To send off this popular series until next summer, Louisville locals the Deloreans, Baltimore's J Roddy Waltson & the Business and They Might Be Giants performed. And with free admission, this is definitely the best value you can get for just showing up and looking cool.
In a colorful performance, TMBG kicked off with "Birdhouse In Your Soul," happily warming up the crowd into nostalgic glee. This didn't stop them from immediately breaking out new material from Join Us with their first single off the record "Can't Keep Johnny Down," a dreamy catch of a tune that could easily pass for a classic TMBG serving. In the spirit of name-dropping they continued on with "Judy is Your Vietnam," and "The Mesopotamians." "Don't Let's Start" initiated a spree of revisiting then, the earlier years, with "The Guitar," before setting the stage for a people vs. apes war. Divided by a thin line of projector light, the crowd was split into a group of people commanded by Linnell and apes under the steady hand of Flansburgh. This erupted into a battle of chants while the band played off their energy and performed short-handed, heavy riffage that sounded beautiful and chaotic over the riot-like banter of the crowd.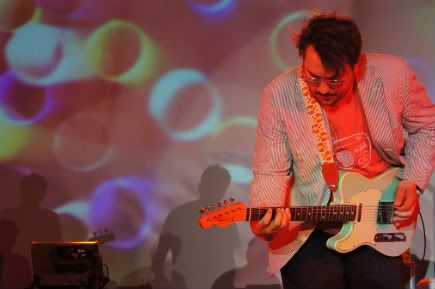 Part of enjoying the show was noticing the subtly of special moments within their performance- like catching Linnell make creepy faces at my camera (or off into space…?) A collage of color-filtered images danced on the projector screen behind them, and during "When Will You Die?" pictures of scissors and knives flashed over the band's defined silhouettes. Linnell busted out the bass saxophone in "Cloisonne'" for one of TMBG's more off-center tunes, and consistently Flansburgh was excited to proclaim this to be "our greatest show ever!" He wasn't wrong in mentioning in our interview that their newer songs are receiving a welcomed response from the audience.
Suddenly they play the riff from "Crazy Train" and it's the part of the show where—in a state of confusion—one must recount if you actually came to the right concert. Two knitted sock puppets appeared on stage, and on screen, to perform as a cover band called The Avatars. Within their silly mockery, they call out TMBG for being old, sang a song about it and suggested a Taco Bell Bong Center in addition to the YUM! Center. Using the puppets for a live rendition of "Spoiler Alert" was a suitable adaptation from the music video where only their palms hand-synched the lyrics.
Returning onto stage, the band apologized for the interruption and brought back the nostalgic glee with "Ana Ng" and "Racist Friend," a tribute to college life in "We Live in a Dump" and another new one "You Probably Get That a Lot." They finished off with Apollo 18's ten-part song series "Fingertips," jamming on the last segment in "I Walk Along Darkened Corridors" that drew out into a climax of everything wonderful in life.
With a show of this capacity, it would've been shameful to not perform an encore. Dan Miller, the band's touring guitarist, rolled up his sleeves and picked away an acoustic bender for the intro of "Istanbul (Not Constantinople)," an upbeat and educational send-off for the night.
Photos: Lara Kinne