Despite the dreary and often unpredictable climate of Kentucky, it didn't appear to put a damper on Ra Ra Riot's energetic show at Headliners last night. The night's bill included local band The Foxery and Cincinnati-based group Pomegranates who just recently joined Ra Ra Riot on their springtime tour. It's the first time the band has been back to the Derby city since playing the 930 Room two years ago.
It was a strange night in Louisville, for earlier that day it nearly felt like summertime with a temperature just shy of the mid 70's. Then by the afternoon we were hit with a marathon of rain. I assumed this would discourage a lot of people from heading to the venue that evening, but rows of cars proved that Ra Ra Riot definitely had a full house.
While I did experience some trouble with the venue's security staff, it wasn't enough to ruin my night completely. However, it is definitely something I won't overlook when discussing my experience at Headliners. Like any paying customer would, I didn't appreciate the hostility I encountered. Had I not made a prior commitment to cover this show, I would've ditched the venue entirely. I do wish that security wouldn't give press people such a hard time, though.
The band made good time with the amount that they had, unloading enough songs from their new album The Orchard to nearly play it in its entirety. As singer Wes Miles expressed how happy they were to be playing there, it resonated clearly through their performance.
This guy doesn't need to drink drain fluid to keep his pipes sounding squeaky clean. It balances well with fellow vocalist Alexandra Lawn's pipes that could probably fool any blind person into thinking she's Stevie Nicks. She belted it out effortlessly when it came time for the anthem-like tune "You and I Know" even though it was the only time she set down the old electric cello. Appearances by the mathy pop song "Too Dramatic" and their funky Fleetwood tune "Shadowcasting" brought the house down. There were also many a fans going ape for "Boy" while the band made sure not to end their songs too early. This overwhelming amount of happy, beautiful music made for a buzzing positive atmosphere where even the shyest of people could comfortably bust a move. A few revisits to their album The Rhumb Line came along when they hit up their older singles "Ghost Under Rocks" and "Dying is Fine." They were even graceful enough to play an encore after which Miles bids the city farewell, promising that they'll be back to play for us again.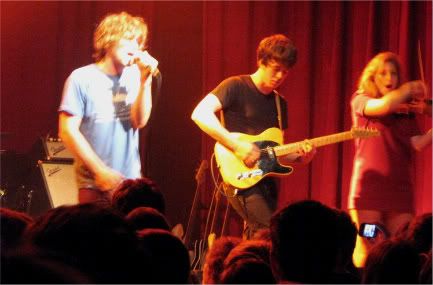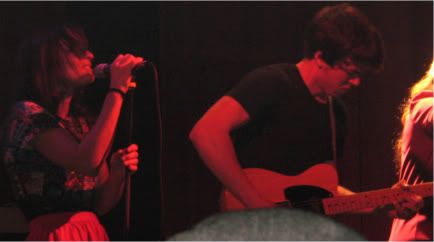 Photos: Lara Kinne and Emilee Starr