By Brandon Quick
Photos by Mickie Winters
You never know what you'll find while lounging on the couch at home, betting Turfway Park in Northern Kentucky on a cold Saturday night in February. I found the Kentucky Derby's forgotten man.
"And it's Red Hot Suzy for Kentucky Derby-winning trainer Don Combs," the track announcer called in an unusually descriptive manner, punctuating the stretch run of a random allowance race. For a guy who follows the Derby and the sport closer than most, I was skeptical about what I'd just heard. Google, too, seemed a little sketchy on the details, so I had to enter "Don Combs horse trainer" to confirm that Combs' 1970 Derby triumph had in fact happened, with what at the time was a little-known colt named Dust Commander (who became the first of five Derby-winning Bold Ruler grandsons in the '70s, Secretariat included). It has been 48 years since trainer Don Combs won the Derby and, oddly enough, obscurity. Combs is one of only three Kentucky Derby-winning trainers since 1962 without a Wikipedia page. At the time of his signature win, he was just 31 and his future in the game seemed limitless. I had questions. What was this guy's story? Had he become disillusioned with the sport and disappeared for a while? Had he been to rehab? Surely, there was something lurking beneath the surface.
With no recent fanfare and virtually no publicity, save for a brief Daily Racing Form piece on Combs by Marty McGee in 2010, I imagined catching up with Combs might be akin to Finding Forrester. Luckily, a phone call was all it took. We first spoke on Feb. 9 and later that night Combs won another allowance race at Turfway, this time with a filly named Make It Maria. I'd found my man. Whatever he'd done since 1970, he was two for two on my watch.
I meet Combs a few days later, early on a Tuesday morning at the Thoroughbred Center in Lexington, where all five of his current horses reside in Barn 30. Inside his cluttered corner office, I find a friendly and soft-spoken gentleman who looks and speaks much younger than his 79 years. Combs has kind eyes and a full head of gray hair that wisps across his forehead. He sits on his desk, legs dangling, hands clasped. Once sturdily built, Combs has lost some muscle mass, but there's still substance to his frame. An orange cat stretches out on the desk. Pictures of a younger Combs and his horses line the walls. There are winner's circle photos from Hollywood Park and Santa Anita and Laurel and Gulfstream and other tracks covering every inch of this country's racing footprint. There are also pictures of Combs with what he describes as "very regular people": Farrah Fawcett, William Shatner.
"I haven't been written about much," Combs says in a way that underscores his penchant for truth. The volume of printed material on the man is indeed scant, consisting mostly of some old Sports Illustrated stories and a few archived newspaper articles from the early '70s, when it was apparently impossible for writers not to use the adjective "young" to describe him. You have to dig a little bit to find Combs' quotes, but the ones out there always reveal his candor. In McGee's 2010 piece, Combs explained his low winning percentage bluntly: "It's because I haven't had any good horses. Good horses make good trainers."
Combs was equally straightforward in a 1970 New York Times piece published just 25 days after Dust Commander's Derby win, when he surprisingly announced his resignation from training the star horse due to differences with the colt's owner, Robert Lehmann. "Mr. Lehmann knows a lot about the construction business," Combs remarked, "but I don't think he knows much about horses."
Our conversation moves fluidly, and I'm able to gather his background in short order. Lexington native, 1957 graduate of Lafayette High School. He took turns living with his aunt and uncle in addition to his grandmother and was out on his own from an early age. No children, divorced in the mid-'90s. He credits his youthful appearance to abstaining from smokes and only raising the occasional glass of alcohol. Unlike many trainers I've met, Combs is a self-professed animal lover. He talks softly to the cat and knowingly violates the cardinal rule in the horse business about getting too emotionally close to the animals. "I get attached to them," he admits as we look at his modest quintet of runners on the shedrow. Combs always has peppermints handy, and five brown noses stick out from the warmth of their stalls to greet him. There are the two recent winners — Red Hot Suzy and Make It Maria — as well as Ambidextrous Alex, Daddy's Profitt and Colt Weston. Each gets a treat as Combs calls them "baby" or "buddy" according to their gender. "How are you today?" he asks Red Hot Suzy as the filly rubs her muzzle against his sleeve.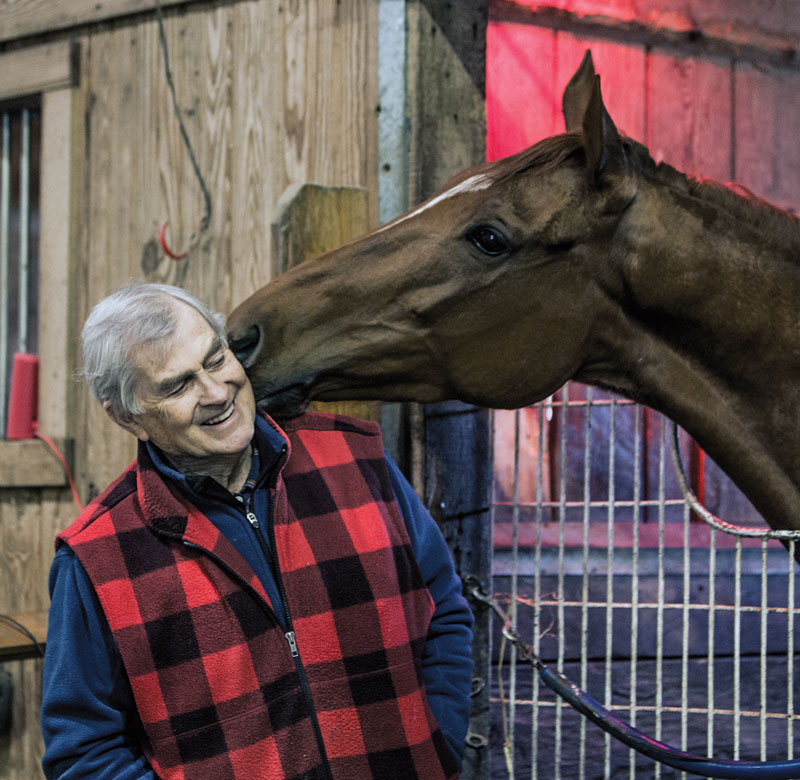 "Mine will never bite you," Combs says. "They're all sweet and gentle. It's all in how you treat 'em. Be nice to them and they'll run for you, and do what you ask."
Some horsemen admonish people for treating racehorses like pets, but Combs sees them as more than thousand-pound running machines. Hall of Fame jockey Chris McCarron once called Combs "an excellent caretaker."
D. Wayne Lukas, three years Combs' senior, is the only active Kentucky Derby-winning trainer older than Combs, but Lukas was still training quarter horses when Dust Commander won in 1970 and wouldn't win his first Derby until 1988. Combs has crossed paths with quite a few of the sport's legends, including now-deceased Hall of Famers Woody Stephens and Charlie Whittingham. He says he knows Lukas well and calls him "a good guy." Despite their age and familiarity, however, Lukas is something closer to the antithesis of Combs than a counterpart. It was Lukas' rise to prominence in the mid-'80s that led to the creation of megastables, ushering in an era when the most profitable trainers would oversee hundreds of horses spread across multiple tracks. In this sense, the businessman replaced the horseman. Combs doesn't have many clients, and the ones he does have are playing the ownership game on a spendthrift level. He has a skeleton staff of three or so Latino workers who speak broken English. He says he sometimes picks up bills for them and loans them money.
Combs has always stuck to his beliefs about horses and many other topics. He's a hands-on guy and clearly not a salesman. To Combs, there's no such thing as "training" a horse you can't see and touch on a daily basis. Combs resents the public opinion that the megastable trainers are somehow more gifted. Yes, the more high-priced horses in a stable, the more big races it will win. But it's kind of analogous to picking a lawyer or an investment banker. If you're the client, would you rather use a large corporation that does a high volume of business, or would you prefer a smaller operation? "There's too many horses in one trainer's hands," Combs says. "I always treated every horse like they were my horse and bought horses for clients like it was my money."
In horses, Combs looks for the same things as other trainers — good disposition, balance, pedigree, etc. High-dollar megastable trainers like Lukas and Bob Baffert can spend lavish amounts on behalf of their clients at major sales. As a result, these men routinely have barns stocked with high-priced horses, ranging from hundreds of thousands of dollars to well over a million. The same is true of high-profile trainers like Todd Pletcher and Steve Asmussen. Combs has never trained a horse that cost over $100,000, and Red Hot Suzy is currently the most expensive animal in his barn at a paltry $15,000.
If winning the Derby at 31 years old seems like a lucky break early in his career, it's worth considering that Combs had already spent the better part of 20 years toiling around horses — he was a regular at Kentucky county fairs in outposts such as Campbellsville, Lawrenceburg and Russell Springs, among other places about as far removed from the limelight of Churchill Downs as imaginable. Before Dust Commander crossed the wire in front, Combs had already served in the U.S. Army Reserves, held a full-time job at Kroger and managed a gas station as well as Town & Country Apartments in Lexington while attending UK.
The Derby itself has a way of making a trainer's career. It didn't for Combs, but there were other moments in the sun, including a return trip to the Derby in 1973 with Warbucks, who was good enough to be 7-1 against a field that included Secretariat, though ultimately finished last. "I didn't just live off the fact that I won the Derby," Combs says without any trace of bitterness.
It's probably best that the understated Combs sees it this way after never getting the 15 minutes of fame afforded even the most forgettable of Derby-winning trainers. Retired Hall of Fame jockey Eddie Arcaro, a five-time Derby winner himself, was covering the 1970 Kentucky Derby as an analyst for CBS but failed to acknowledge Combs in the winner's circle, much less ask a single question. "He didn't know me from this cat over here," Combs says, gesturing downward at the orange tabby now sprawled across his lap. No more than a handful of reporters would gather at the barn after the race, and as Combs recalls Derby Day 1970, very little stands out as remarkable. He stayed at the now-defunct Churchill Inn off Dixie Highway, as he usually did when running horses in Louisville. There was the obligatory sound and fury any Derby brings, but the trainer doesn't recall any additional nerves.
While Hunter S. Thompson was busy observing the mayhem — real or imagined — that he'd later document in his epic piece "The Kentucky Derby Is Decadent and Depraved" (the only mention of Combs or his horse: "The winner was a 16-1 shot named Dust Commander"), Combs was simply having another day at the office. He saddled Dust Commander with his own hands and watched the race with his wife and a few others from a box in Section G near the Churchill Downs finish line, just under the covered section. Combs was quietly confident that the long-winded Dust Commander would run well, but the trainer remained stoic even as jockey Mike Manganello guided the chestnut colt through an opening along the rail and sprinted clear in the final furlongs. "I'm not one to scream and holler," Combs says. "I enjoy things in here" — he thrusts a fist into his heart. The winner's circle photo shows a nattily attired Combs in a crimson jacket and white slacks to go with a poker face that suggests he really was taking it all in stride.
That night, the theme of the Derby that never fully embraced Combs continued. The trainer enjoyed a quiet meal at Frisch's with his wife before heading back to the Churchill Inn for bed. Earlier in the evening, the two had briefly attended an after-party, but when a drunken owner embraced his wife a little too enthusiastically, Combs, never big on parties or suffering fools, made a quick exit. "I didn't say anything," he says with a dismissive remembrance. "I just left."
Time has blurred many of his career's most significant accomplishments, and other parts he simply does not seem all that interested in discussing. Trainers, jockeys and agents are mostly self-employed independent contractors, so following the money trail in horseracing isn't always easy. That said, making a really good living at any of these occupations necessitates winning. According to Equibase, which has stats on Combs as far back as the mid-'70s, the trainer's best year, 1975, resulted in total purse earnings of $1,251,294. From 2010 to February 2018, Combs' trainees have earned just $382,154.
Customarily, a trainer keeps about 10 percent of a horse's earnings, although they are also compensated through daily rates, breeding rights and other business arrangements. Combs, as in the case of Red Hot Suzy, has also frequently owned shares of horses he trains. I remind Combs that some people reading about him might wonder how he stayed financially solvent while running so few horses. Without hesitation, he quips, "I wonder that myself." At his zenith, he was being flown in private jets and had clients such as Western actor Dale Robertson. Combs has owned homes in California, New York and Lexington, but nothing about him suggests he has ever been driven by the almighty dollar. After Red Hot Suzy's first career start, he rejected an offer of $150,000 for the horse — 10 times her original purchase price.
As early morning crawls into mid-morning, I ask Combs about whether he misses any of the old life. He shrugs. "At least I had it," he says. "Look, I've been very fortunate."
Just as I think I'm boring Combs, he extends an invite to visit his home. The sprawling ranch, surrounded by about 10 acres of farmland, is owned by Combs' good friend — a woman close to his age named Janie — who spends half the year in Florida. Janie's daughter occupies a separate wing of the house with her husband and nine-year-old son, Colt. Combs named his horse Colt Weston after the boy. Combs is something of a grandfather to Colt and has plans to pick him up from school later this afternoon.
The hallways in Combs' section of the home are lined with equine art and other memorabilia. Some paintings he had commissioned and others were given to him. There are plenty of winner's circle photos and collections of books, with racing and historical tomes dominating the mix. He has a couple of dogs that follow us around. Combs lives a pretty quiet life, mostly dictated by the routines and needs of animals. "I do all the mowing and cleaning around here myself," he says, reclining in a leather chair in his living room.
A few weeks later, I'm back at the Thoroughbred Center with Combs, watching his horses go through their morning paces. The sun is shining and it's pleasantly warm for early March. Ambidextrous Alex, a five-year-old gelding, steps onto the track and seems to gently acknowledge the instructions of the exercise rider. "He was built to be a really nice one," Combs says of the horse, whose modest accomplishments he attributes to a host of small physical issues that can nag racehorses. As the wind blows across the track and Alex gradually picks up speed, Combs stops talking and gazes at the horse intently. At this stage in the game, there are no doubts about what could have been, just untraveled racetrack ahead.
Nine days after Ambidextrous Alex's workout, he's running in an $8,000 claiming race on a Thursday night at Turfway Park. There are seven battle-tested veteran horses in the field, and regardless of what they were or will become, any of them can be purchased before the race on this day by a licensed owner or trainer for $8,000. There's little chance, however, that Alex will be "claimed," as he's the second-biggest longshot on the board at 16-1 odds. As he does with all of his horses, Combs has made the trip and watches from the rail.
When the bell rings and the gates spring open, Alex seems suddenly infused with Thoroughbred afflatus. He breaks sharply from the far outside post and gets the track announcer's first call. Then he falls behind a couple of horses more intent on getting the early lead. But he keeps moving with purpose. He settles. He waits. Jockey John McKee — once considered an up-and-comer himself, the rider of Lawyer Ron in the 2006 Kentucky Derby — guides Alex into the far turn.
The horse makes up ground despite being the widest of the group. At a certain moment, it becomes clear that Alex has the field in his crosshairs. He slingshots around the other horses and gallops home well in front of the runner-up under the Turfway lights. Combs, clad in a red vest with blue sleeves underneath, has a bounce in his step as he moves toward the winner's circle.
This originally appeared in the April 2018 issue of Louisville Magazine. To subscribe to Louisville Magazine, click here. To find us on newsstands, click here.