Photos by Mickie Winters
What could be better than Sunday brunch? The greasy grub, the mimosas, the conversations with friends. And the drag show. Well, at least that's the case at Le Moo (2300 Lexington Road), where velvet booths, chandeliers and a maître d' wearing a silver/paisley silk suit set the scene for Le Moo Le Femme. My four girlfriends and I pile our plates with tater tots, eggs, bacon, grits, biscuits and gravy and prime rib at the buffet — $35 for the food and the show; drinks are extra — before nestling into a booth.
As I sip a Bloody Mary, a tall dancer with wavy blond hair and a body-contouring, floor-length floral dress comes onstage to Faith Hill's "This Kiss." She glides through the room lip-syncing, batting her doll-like eyelashes and flashing a smile through her thick rouged lips. Some women in colorful wigs are here for a bachelorette party. Other guests are celebrating birthdays. It's super girly, though some men who look to be with their wives shove dollar bills at the performer.
"She wants to know if your eyelashes are real," a lady from the wig table asks the performer.
"They're $3.99 and they're real good," she replies with the affectation of a musical-theater actress.
Le Moo, known for its high-roller steaks and booth lined with Louis Vuitton leather, generally hosts the drag brunch one Sunday a month, although Lady Gaga's Yum! Center concert in November merited Saturday/Sunday shows one weekend, and festive December has two weekends in a row lined up. (The shows, one at 11 a.m. and another at 1:30 p.m., take place in an event space separate from brunch in the main dining room.)
The next dancer comes out to Prince's "Kiss" with cotton-candy-pink hair and a flared floral pantsuit. Phones rise to capture the ensemble. A third dancer does Olivia Newton-John's "Physical" in a leotard, leg warmers, sweatband and high ponytail.
"I want her ass," my friend says.
"It's fake," I tell her.
"That's not fake. There's no way that's fake."
"I'm telling you, it's a padded ass."
We settle the debate when the dancer makes her way over and tells us it's made of foam. "I have on eight pairs of dance tights over it," she says.
The show cycles through hits: Madonna, Kylie Minogue, Donna Summer, Bonnie McKee's energetic pop hit "Bombastic." At one point, one of the dancers struts around in a custom-made black mesh bodysuit that is strategically opaque over certain parts. Another wears a dress that's formed with thick vertical cords of colorful blinking lights. "My boyfriend made it," the performer says, pointing to the emcee who's sitting at a white grand piano and wearing a gold baseball cap backwards.
Checks arrive wedged inside musky harlequin romance novels.
Signing her receipt, my friend says, "I mean, this might become a regular thing for me."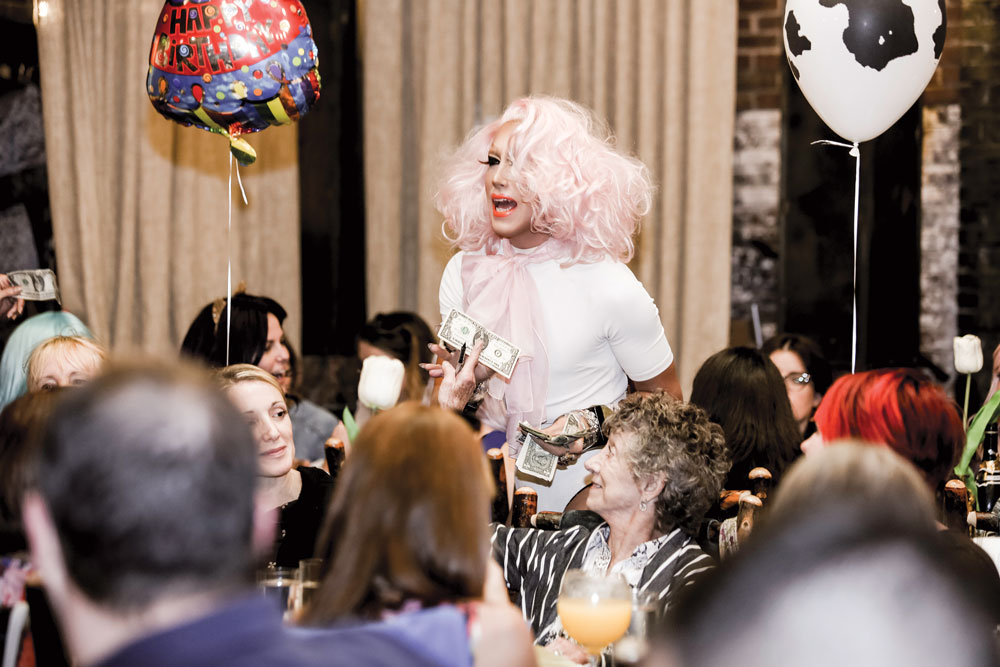 You can catch the next Le Moo Le Femme Dec. 17.
This originally appeared in the December 2017 issue of Louisville Magazine. To subscribe to Louisville Magazine, click here. To find us on newsstands, click here.